We manufacture high quality needle-free injection systems for use in the agricultural sector.
AcuShot™ Inc is committed to being a world leader in design and manufacturing of next generation needle free injection technologies. Available in many countries, check here to find a distributor in your country.
AcuShot Inc. is comprised of an innovative hi-tech team that aims to keep your herd healthy and free of disease. The AcuShot Needle-Free Injector is a major tool in your biosecurity arsenal. It helps to maintain control of animal health, aids in preventing an outbreak, and can help to eradicate an active disease. 
We are on a mission to make animal health injections faster, safer and better … for the animals, the farmer, the worker, and the consumer. Our AcuShot Needle-Free Technology simplifies compliance and preparation. The AcuShot™ Needle-Free Injector can be used on all sizes of livestock from day old chicks to the most seasoned sow or cow.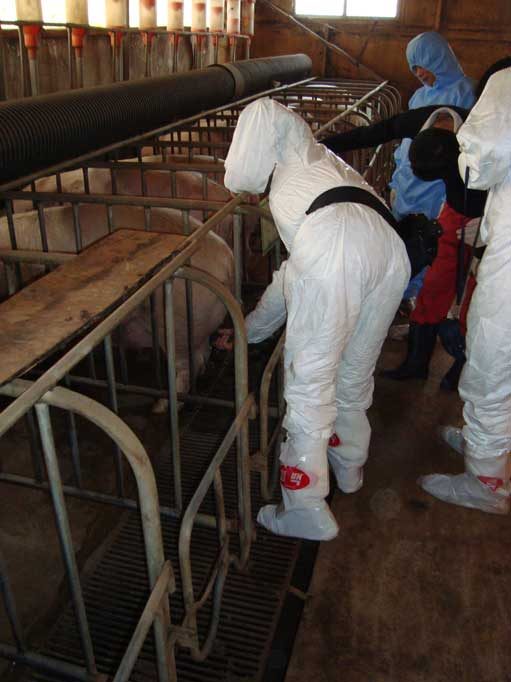 Our Distributing Countries
We are a team of innovators who strive to build the best in livestock needle free injection systems.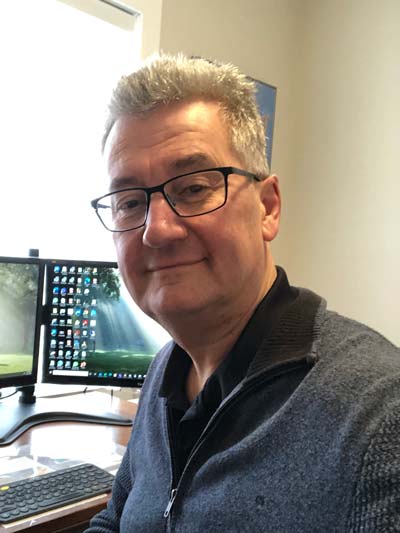 Cal Funk
Director of Business Development
Cal Funk serves as the General Manager and Director of Marketing for AcuShot since 2008. He oversees the ongoing research and development aspect of the company and heads up all sales and marketing. His 30 years in Agri-business related experience strengthens his relationship with his distributors, helping them in any way possible to achieve their goals to service their customers with AcuShot. Prior to joining AcuShot, Cal spent eight years managing and directing activities of a privately owned company with more than 100 employees. Plus, 16 years before that driving the production and marketing efforts for one of Western Canada's fastest growing Agri-Businesses. He attended the University of Guelph Extension Program, ANAC/University of Guelph Feed Advisors Certificate Program, Richard Ivey School of Business and Insights Discovery Program.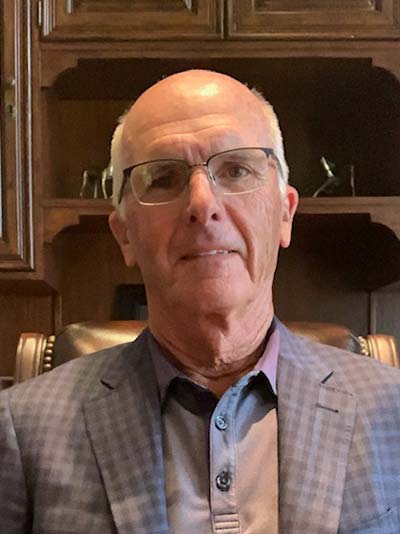 Warren Toles
Warren Toles, B.S.A., P. Ag.
Warren Toles is President and Chief Executive Officer of AcuShot Inc. He has been directly involved in the ownership of numerous livestock operations. And served on a variety of boards including the Haggai Institute for Advanced Leadership Training and the providence College and Seminary. The Canadian Feed Association (later renamed the Animal Nutrition Association of Canada) recognized Warren's industry leadership and awarded him the coveted ANAC Golden Award. He went on to establish WLT Distributors Inc., a leading livestock feed ingredient marketing and distribution company. His innovation and thought leadership in animal health revolutionized technology for large livestock handlers and other veterinarian and health care industries. Warren comes from a strong background of agriculture and agri-business starting from an early age on a large confinement hog operation. In 1971 he graduated from the University of Saskatchewan with a degree in Agriculture (Animal Science Major) and immediately earned Top Salesman status with Shur-Gain Feed in his first year. As a marketing executive, Warren worked successfully as part of a small team responsible for coordinating the activities to streamline the sales. He also did the marketing for CSP Foods in Winnipeg after the merging of three oilseed crushing companies. As a growth-oriented opportunist, Warren was largely responsible for the promotion and wide scale implementation of the use of Canola Meal as a low-cost protein alternative for the North American feed industry during his tenure at CSP Foods.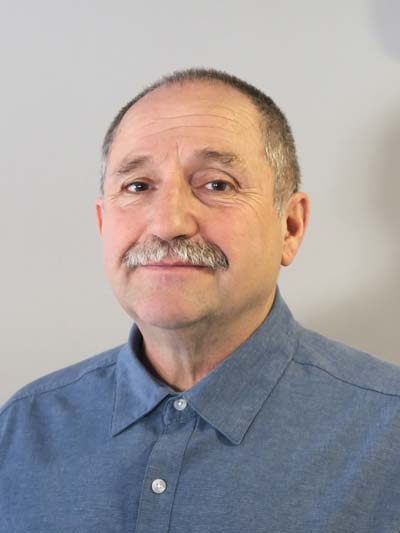 Peter Colpitts
Director of Research and Development
Peter Colpitts serves as AcuShot's Director of Research and Development (R&D) since 2007. Peter was raised on a farm in Ontario, Canada where he worked with livestock and developed a natural mechanical aptitude. He became a licensed auto mechanic by trade and then later founded Colpitts Design Inc. in 1988. Colpitts Design Inc. is a fully equipped machine shop and design house with a dedicated staff that takes someones idea's and turns them into a reality. A leader in the industry of design, prototyping, electronics, and producing world-class parts in a timely fashion is what sets Peter and Colpitts Design Inc. apart from their competition. Peter prides himself on staying current with technology and specializes in CAD design, CNC machining 3D printing, injection moulding, laser cutting, and custom fabrication. He has been very active in the movie industry for the last 30 years building "Hero" props for major motion pictures as well as working closely with art directors to design props and sets. Peter has a wide variety of interests that range from dirt biking and air-soft to travel and building furniture. He shares his life with his wife of 30 years Michelle, and their 2 dogs in Uxbridge, Ontario.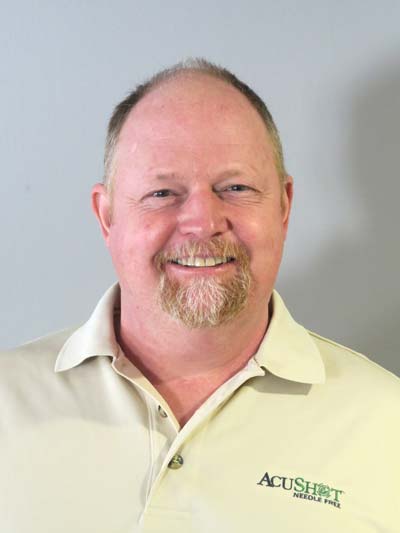 David Gribble
David Gribble has been the manager on the Acushot project for over 10 years. He is a serial inventor and brings a wealth of knowledge in needle free injector development and manufacturing to the team. Before AcuShot, he was a partner in his family's greenhouse and garden center operation and ran his own landscaping business. David is no stranger to a life in agriculture. He has been married to his wife Julie for over 30 years. His hobbies include gardening and product design.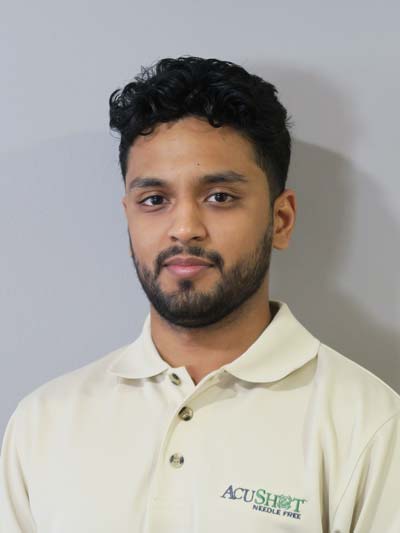 Sameer Awan
Bachelor of Engineering (Honours)
Sameer Awan brings skills and knowledge of embedded systems to the AcuShot Needle Free Injector. He has a background specialty of design and troubleshooting industrial control systems in the food processing and packaging industries. Sameer has an Electrical Engineering (Honours) degree from Ontario Tech. When he's not designing, troubleshooting, or learning something new in technology you can catch him on hiking trails or throwing a line out at a quiet fishing spot.
Please feel free to reach out to our sales or technical support staff.  Click this button to fill out the form.